Our laminated poles (round or square) are produced from kiln dried redwoods: During a state of the art process, high quality planed sawn redwoods are glued together, and they are passed through a high frequency hot press. Finishing through a moulder we obtain high quality timber columns with a perfect finish. Finger joints are used to enable us to produce lengths of up to 6.0m We can also supply our laminates in "square form".
This in-house futuristic production process helps *reduce the possibility of the logs warping, twisting or cracking, which means these timbers are ideal for use in applications such as commercial buildings, playground equipment and even bridges.
So why choose Ecolam?
We can offer our in house specialist machining for drilling, scalloping, doming, routing and chamfering
Diameters available: 95mm, 120mm,140mm and 200mm
Product available up to 6.0m in length.
Ecolam is produced to a joinery finish.
The glue is also by BAE.
High strength to weight ratio.
All machining that we carry out to our timbers is done prior to them being put through our pressure treatment tanks. If you wish to carry out any of these yourselves then we recommend the ENSELE is used to preserve the timber. For further information please visit our treatment page.
At Clifford Jones we do not construct or erect any of our own play equipment or garden buildings. All drawings supplied to us by our customers are considered confidential This information is not shared with any third party. If you are interested in the installation of a playground or outdoor shelter then please contact our sales team on 01824 702157 for our recommended suppliers.
*Please note that although every effort in the construction of our laminate columns is made to reduce the possibility of splitting, timber is a natural product and therefore subject to movement and weathering as it seasons. This is Mother Nature at work and should not be considered a fault. The laminate timber should revert back to its normal state when the equilibrium of the moisture content within it returns.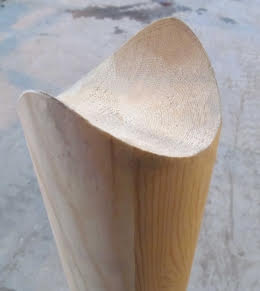 ---